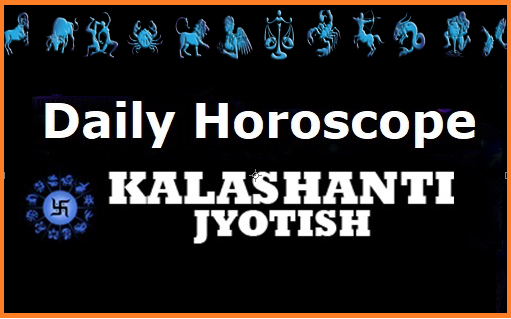 KalaShantiJyotish Horoscope Today, July 03, 2019: Check daily astrology prediction for your zodiac sign Aries, Gemini, Cancer, Libra, Scorpio, and Capricorn … 
Aries
Aries sign people will get the support of their brothers. There will be some mental tensions to cope with. Your financial condition will be strong. You must not let lethargy grip you today. 
Taurus
Taurus sign people will get tensions from their family members. Your speech may get harsh and hurtful so you must exercise control be careful else you will incur major losses.
Gemini
Gemini sign people will spend a pleasant day in their married life. You will spend a fun-filled day with your family members and friends. There will be moderate expenditure but you will still be worried.
Cancer
Cancer sign people will have to for a trip which will not be of their liking. Your expenditure will be on a higher side. Stay away from any immoral act. There can be problems if you let your uncontrolled temper and irritability rule your conduct.
Leo
Leo sign people will leave a positive influence on people and their valour will be heightened. There will be a rise in the income of the business as well as salaried people.
Virgo
Virgo sign people will go through some change in their job or business. There are chances of making gains in the matters related to your land or property. Your income shall rise. 
Libra
Libra sign people will receive their pending payment. You may participate in religious activities. You shall spend on the items of comfort and luxury. You will make progress in your professional field.
Scorpio
Scorpio sign people will have to cope with ups and downs in their health standards. Do not be in a hurry for anything. There will be a sudden monetary gain.
Sagittarius
Sagittarius sign people will spend a day full of success. There will be chances of business-related gains throughout the day. The salaried people may get a new position in their professional sphere.
Capricorn
Capricorn sign people will have to deal with sourness in their conjugal life. If a legal matter is stuck in the courts,  it may become a reason to worry. You may set out on a trip.
Aquarius
Aquarius sign people might make financial gains from an earlier investment. There will be some ups and downs in your health. You may get a promotion in your workplace.
Pisces
Pisces sign people will face some problems from their wife and mother. You will make gains on account of your child. Take care of your health as your stomach is likely to develop some problem.