10 October 2019 Horoscope Today,Aaj ka Rashifal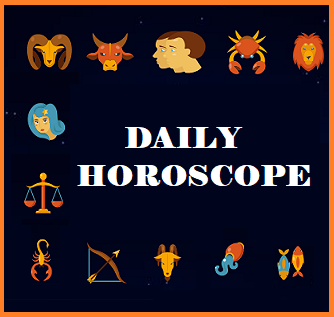 Aries
Aries sign people will lead a day full of positivity and goodness. You will strategize the details of a new project. Your bosses will bless you and rely upon you for an important project. Your mother's advice is best at this juncture in life. Someone young in the family will keep you happy and elated or a discussion about the possibility of a child can keep you excited about life. Students will be satisfied with their results. There will be inflow of money. 
Taurus
Taurus sign people will find this to be a positive day in which several kinds of gains shall knock their door. For a change, there will be less work and that too may get completed in a smooth manner. You might be given additional tasks or responsibilities that will add to the authority that people associate with you. You bosses will appreciate you rather generously. You will develop a network of work-related people who hold importance. Your mind is set on the future goals. There will be love and harmony in your relationship. Do not let your usual negativity grip your mind.         
Gemini
Gemini sign people will find this to be an auspicious day in the contexts of their learning and the issues related to their child. A positive stroke of luck will be by your side throughout the day. Religion and alms will specially appear interesting.  You might blow your budget to help someone in need. You will spend a lot of time on the streets for small and big tasks-related to your profession. There will be too much running around for occupational purposes. There will be love and harmony in your marital or love life. However, the health stars indicate some problem. Nobody deserves your complete faith.
Cancer
Cancer sign people may have to cope with extremely low levels of psychic and physical energy. Your health will not be by your side. The work may also fail to provide any excitement or peppy ideas as obstacles might emerge in almost everything. However, this doesn't mean that you lose temper and blame others. You need to be mindful of your words when you talk to people around you. You will have to burn your back at work.  Postpone any kind of money transaction for some other time.  A journey is indicated in the stars which might add to your struggles.
Leo
Leo sign people will start the day be receiving a piece of information that will resolve many problems. You will acquire an upper hand over all obstacles and difficult people in your occupational sphere. There are chances that a new deal or a project may come through which shall bring a shine to your financial profile. A harmonious ethos shall prevail at home.  Your siblings will be affectionate and might offer you something concrete in terms of ideas or money. People will talk about you and appreciate you for several good deeds.  You will work in tandem with your subordinates as well as seniors.
Virgo
Virgo sign people will benefit because of the stupidities of their rivals. There will be cheerfulness and happiness at home. The lighter atmosphere will keep you pepped up despite the usual struggles of life. However, you should not ignore your health and symptoms that must be reminders of a problem that requires considerable attention. A health issue may slow you down a bit today. There will be inflow of money which can increase the bank balance to your liking. There will be some kind of growth or enhancement for those who are employed in a job.  Talk mindfully if you do not want to stuff your day with unnecessary problems.
Libra
Libra sign people are in for a positive day in which their children will be the reason for happiness and harmony. Students will get excellent results of their efforts. New, absolutely unimagined, vistas will open up in your field of work. A project recently completed by you shall draw accolades and overall appreciation. There will be image enhancement and over positivity about your professional calibre.  You will enter the good books of those who wield the decision-making power with regard to your growth and increment in job.
Scorpio
Scorpio sign people will imagine everything wrong useless which might keep them in a morose mood throughout the day. Do not fall prey to luring ideas as all that shines is not gold. By considering new options, you might invite problems for yourself. You are likely to set out on a shopping spree and buy for others rather than yourself.  A minor health issue will keep you on the edge and irritable. However, you can overcome the discomfort by taking rest and precautions. Students will neither be excited nor sad about their achievements.  
Sagittarius
Sagittarius sign people will go through several luxurious experiences with exotic stuff.  You will strike a positive and warm chord with those people who have been upset with you in the recent past. If you intend to marry, today is the day to look forward to. You might meet someone special. It is likely that you will get a promotion or an increment in your job. Your rivals will not stand a chance today.  A payment might come through. Obstacles will emerge but you will overcome all of them with your sheer energy and might. 
Capricorn
Capricorn sign people may feel trapped in a court battle and things will appear negative and hopeless. A substantial expense on your health maintenance is indicated in the stars. An internal injury or muscular tension might keep you in pain and doing the rounds of a hospital. It is highly likely that a misunderstanding will get blown out of proportion between you and your life partner or a lover. You should not wish wrong things for people even if they do any harm to you. Take a larger perspective on things and relationships. Something positive will happen in your work arena.   
Aquarius
Aquarius sign people are in for an auspicious day in which all will come through easily and smoothly. There are indications of something very big coming your way in your occupational sphere. You will make an entry in the good books of your bosses. This might lead to an additional responsibility which will add a shine to your image and profile. You will enjoy exotic stuff in life. There will be a rise in your pleasures. You will be in pink of your health. Students may be appreciated by their teachers.  You may decide to expand your business. 
Pisces
Pisces sign people will be down with poor health and weakness. Students will have to struggle to learn and also against administrative challenges.  There will be love and harmony between you and your partner. A business deal or an expansion plan will turn into your favour even if it feels otherwise in the morning. Expenditure will be a serious problem as you may not manage to control it. A trip is indicated in the stars which might prove difficult and painful.