10 October Daily Horoscope -KalaShantiJyotish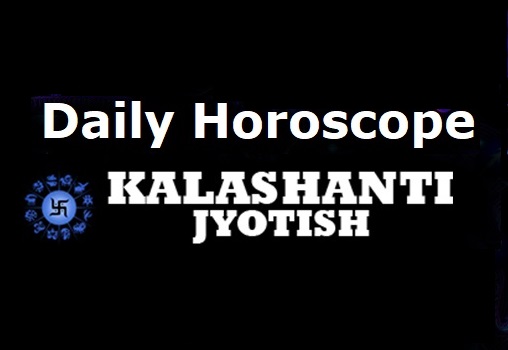 Aries sign people will remain fortunate in several aspects. A new prestigious project may be assigned to you. There will be a cheerful and pleasant environment at home. Traders are likely to finalise a new deal. The lovers are likely to make a lifelong commitment.
Taurus sign people will remain dull and weak today. There will be some health issues in the morning. The salaried people are likely to get promoted to a higher post. You must pay attention to your partner's feelings.
Gemini sign people might hold meetings to finalize a business deal or a professional project. Your health will remain fine. You will feel energetic and upbeat today. A new job offer may be made to you.
Cancer sign people will remain in discomfort and pain today. There will be chaos and confusion on the professional front. You should not say hurtful words to anybody even if the other person makes a major mistake. You must control your expenditure.
Leo sign people will remain upbeat and full of new ideas. You may be given a prestigious project to lead. Your sister might do something good for you. Pending payments are likely to get cleared. Business people will earn unusually high profit.
Virgo sign people might consider spending their money in fresh schemes. Business people may finalize some new deals which will prove beneficial. A major achievement is possible for some of you in the morning. Pending payments may get cleared on their own.
Libra sign people will continue to work in a very efficient way. Some of you may get promoted to a higher post or may be assigned the responsibility of a prestigious assignment. This will cheer you up. Your health needs attention. You must save money for the future.
Scorpio sign people might feel nervous and worried about their financial condition. Your work will move smoothly and without any obstacles. You will remain physically and mentally dull. You may have to travel to complete your work. Control your anger.
Sagittarius sign people will be appreciated for their contribution in a major project. You might spend some time planning your activities in the near future. Your younger brother is likely to make a major achievement. There will be love and harmony at home.
Capricorn sign people will do their work. You will enjoy the benefits of a positive stroke of luck. There will be love and harmony among family members. You may undertake a short distance journey to meet your relatives. You must discuss your issues with your spouse before making any decision.
Aquarius sign people will expand their professional network. They might finalize a new business deal or a professional project. Your boss may bless you and give you some special favours. Pending payments are likely to get cleared which will stabilise your financial condition.
Pisces sign people will spend a tense and chaotic day. An official trip is possible. You may get tempted to buy an expensive item of material comfort. You must take care of your health as a problem is possible. You must remain optimistic about life.
For Personalized services:
Mail Us at kalashantijyotish@gmail.com
Call at: +91 6261231618