4 October 2019 Horoscope Today,Aaj ka Rashifal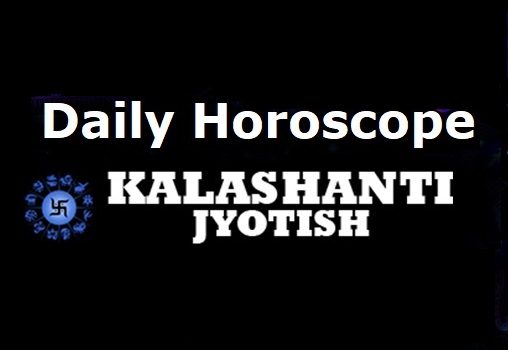 Aries
Aries sign people might get hassled and emotionally down by recollecting their past. There will be too much running around for work. Business people will make significant gains. A decision made in a fit of anger will bring only losses and destruction. You must remain calm and composed. You may get into an argument with your brothers and sisters. Your expenditure may be beyond your control. 
Taurus
Taurus sign people will remain worried on account of illness and physical discomfort. You may also have to spend money on your health and treatment. The salaried people may have to face disapproval from their bosses. Your harsh speech and hurtful words may lead to a conflict with your neighbors and family members. You may feel drawn towards spiritual issues. You may have to suddenly set out for a journey.     
Gemini
Gemini sign people will spend a tranquil day with their partners. You may be blessed with a kid today. Students will get good results today. If you follow somebody's advice in totality, you may land up in a problem. There will be strong chances of monetary gains. You may remain worried about your job-related assignments. You are advised not to think negatively about anything.
Cancer
Cancer sign people will have to deal with extremely difficult and impossible situations in the workplace. You may remain very worried about your monetary profile even though, some success will come your way as a result of your concerted efforts. Your enemies may dominate upon you. There will be ups and downs in your health. If you control your anger and mental stress, you will do much better. 
Leo
Leo sign people will remain worried about their child today. Students may feel upset because will not get the expected results of their efforts. Keep your ego and pride at a bay in your love relation or marital relationship otherwise conflicts will become momentous. You will earn less and spend more today. There may be too much running around in the workplace for your assignments. Your relationships will be harmonious with your brothers and sisters.They will cooperate with you by all means. You will make a special gain on account of your sister.
Virgo
Virgo sign people will find this to be a day full of pains and difficulties. You may have to cope with health-related issues. You may feel irritated and upset because you will not get the desired results despite your best efforts. Do not take any property related decision today. Postpone it for a later date. There can be heightened stress and unpleasantness in your familial life. However, things will be favourable for monetary gains.
Libra
Libra sign people will feel lethargic today which will delay the completion of your work. It is likely that you will pick up a misunderstanding with your brothers or sisters. You must remain cautious about it. You may spend money on purchasing amenities for comfort. You will get success only after putting in extra effort in the workplace. Your familial life will be normal.
Scorpio
Scorpio sign people have to face money-related problems today. Your harsh speech may hurt people. You must speak mindfully. You may suffer from headache, an eye infection or a toothache. This will be a good day for students. You will make solid gains if you set out on a work-trip. Things will be normal in the workplace. Keep away from immoral acts today.
Sagittarius
Sagittarius sign people will have to deal with few mental tensions. There will be physical exhaustion as a result of too much work. This will be an excellent day for business as well as salaried people. Your officers will be pleased with you. Your child will offer love and happiness. You may get worried about the money that you have borrowed from somebody. You will make gains on account of your life partner. There will be enhanced warmth in love relations.
Capricorn
Capricorn sign people will complete all their tasks smoothly in the job. Business people may have to resolve certain conflicting issues. Your child's or life partner's health may bother you today. You will experience physical exhaustion. You may have to spend money on hospital and medicines. You may spoil some deal or a possibility because of your temper. You may make minor monetary gains. 
Aquarius
Aquarius sign people will get immense support from a favourable stroke of luck in resolving their problems. Things will be normal in the workplace. This will be a difficult day for students. You may have to face challenges in the love relation. You may remain worried about your child's health and education. Take care of your health. Do not engage in any kind of debate today. You may suddenly land in the situation which will demand higher expenses than usual.   
Pisces
Pisces sign people will make monetary gains. Your colleagues may not support you at all in the workplace. Do not engage in any debate or discussion with your seniors in the workplace. The salaried people may feel confused about several things today. Several obstacles may emerge in your daily comforts and luxuries. Pay attention to your mother's health. Students will feel the need to work hard.