8th October Daily Horoscope -KalaShantiJyotish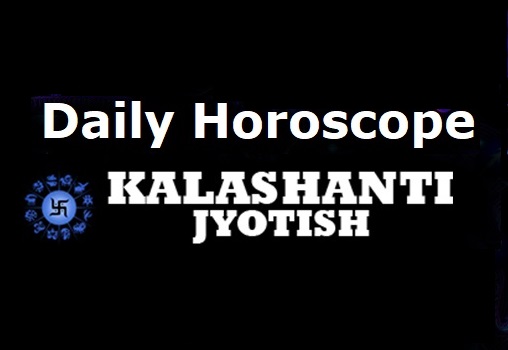 Aries sign people will remain upbeat and full of energy to work. Certain new plans will get finalised on the professional front which will yield great results. There will be an inflow of money. You shall draw words of praise from several people. You will enjoy material pleasures today.
Taurus sign people will secure success in a big way on the professional front. You may remain slightly indifferent and dull in the morning. Some of the routine tasks will require you to work more than usual. You may get tempted to buy an useless but expensive item.
Gemini sign people are likely to receive their pending payments and consolidate their financial profile. Spending time with small kids will prove therapeutic. You will take keen interest in your routine professional activities. Something good will happen in the morning.
Cancer sign people will have to cope with some strange problems in the morning. Things will improve in the afternoon. A relative or your offspring is likely to fall ill or get injured. The salaried people will hear something positive. Do all your cash transactions carefully.
Leo sign people will feel a fresh surge of energy in them. All their work will move smoothly. You shall gain fame and popularity among your colleagues and in the larger professional circle. You will spend some lovely moments with your family members. Somebody might send a gift.
Virgo sign people will have to work more than they do on a regular basis. Your grandfather or a father like person may give an important advice. You must follow it. Your younger brother will help you. Do not talk harshly with your spouse as she may get hurt.
Libra sign people will work in a harmonious and cooperative way on a collective project. Your business associates will help you make gains. There will be renewed love and affection between married partners and lovers. You will remain cheerful and upbeat.
Scorpio sign people might feel dull and weak in the morning. Some of you will work hard in order to earn an extra amount. Your work will move smoothly. It might turn out to be a chaotic morning for some of you. Things will surely improve in the afternoon.
Sagittarius sign people will do very well on the professional front. There will be an inflow of money from various sources. There will be love and excitement about relationships. You will enjoy some lovely moments with your partner. All your work will move smoothly.
Capricorn sign people will make an achievement on account of substantial help from their business associates. The salaried people are likely to be promoted to a higher post. Your elder brother will help you in a special way. Take care of your health as problems are indicated in the stars.
Aquarius sign people will enjoy the benefit of positive stars. All your work will move smoothly and as per your wishes. Your younger sibling is likely to get injured. You may visit a temple. Do not fall prey to sluggishness. Pending payments might get cleared very suddenly.
Pisces sign people will remain disturbed over a misunderstanding or an unpleasant dialogue with somebody. You will lack the energy to do your regular work which might keep you irritable. You must follow the advice of your elders. There will be an inflow of money.
For Personalized services:
Mail Us at kalashantijyotish@gmail.com
Call at: +91 6261231618