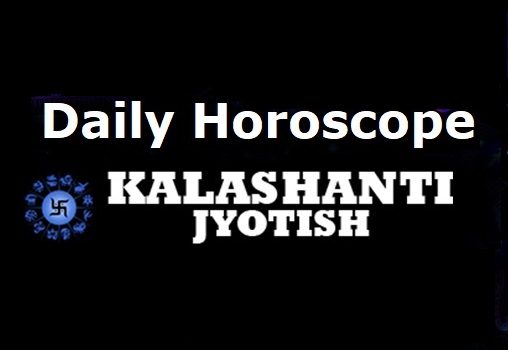 Daily horoscope Aries
Aries sign people will spend a happy day. All your tasks will go through smoothly. You might go on a trip with your family and also receive good news.
Daily horoscope Taurus
Taurus sign people will have to cope with difficulties today. Your expenditures will be on a higher side. There are chances of getting injured so you must drive carefully.
Daily horoscope Gemini
Gemini sign people will feel very confident today. You will meet new people, which shall prove beneficial. A wish might get fulfilled today. You will get a financial gain on account of the business.

Daily horoscope Cancer
Cancer sign people will feel energetic today. You will get success in your work today. Your familial life will be happy. You will remain happy after receiving good news.
Daily horoscope Leo
Leo sign people may end up undertaking a short distance journey. There are chances of remaining confused about something today. You will spend a pleasant time with your lover.
Daily horoscope Virgo
Virgo sign people may feel worried about their health today. There are chances of a rise in their expenditures. A failure in accomplishing something may keep you upset through the day.
Daily horoscope Libra
Libra sign people will be successful in all their endeavours. There will be a rise in comfort and luxury levels. Your relationship with your life partner will be strong. You will be pleased with the inflow of money.
Daily horoscope Scorpio
Scorpio sign people will be victorious over their enemies. Your health will be excellent. There will be peace and harmony in your family ethos. You will make achievements in the workplace.
Daily horoscope Sagittarius
Sagittarius sign people will gain fame and status today. There are chances of worry and tension. There will be chances of monetary gains. Stay away from unnecessary conflicts.
Daily horoscope Capricorn
Capricorn sign people may have to face the situations of conflicts in their families. Your mother might face some difficulties. You might feel sluggish and an ailment may increase your problems.
Daily horoscope Aquarius
Aquarius sign people will get complete support of their siblings. There will be a rise in your honour and popularity. You will spend pleasurable time with your family members. You will participate in religious activities.
Daily horoscope Pisces
Pisces sign people might remain confused all through the day. Your family life will be full of exciting moments. You will spend on religious activities. You are advised to not interfere today in other's matters.