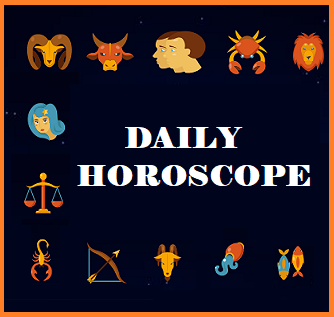 Daily horoscope Aries
Aries sign people will begin the day on a good note. You will meet a lot of people. All your things will go as per your plans. Your health might suffer a bit in the second half of the day.
Daily horoscope Taurus
Taurus sign people might have to put in the extra effort today at the workplace. Your health might be under rough weather. You will receive good news in the afternoon. Your ongoing problems will get resolved today.
Daily horoscope Gemini
Gemini sign people will make monetary gains today. Things will be in your favour at work. Take care of your health. Your expenditures might suddenly rise in the afternoon.

Daily horoscope Cancer
Cancer sign people will very confident today. Your colleagues will be of great support to you. An acquaintance will be of help to you which shall prove beneficial.
Daily horoscope Leo
Leo sign people may suffer from mental and physical stress. Remain patient as things will turn into your favour as the day ends. People will cooperate with you at work.
Daily horoscope Virgo
Virgo sign people may be able to resolve their old and persistent problems today. Something beneficial will happen purely out of luck that will make you happy. Your health will improve.
Daily horoscope Libra
Libra sign people may have to cope with conflictions at work. Be alert while driving any vehicle. You may feel a heightened sense of physical fatigue.
Daily horoscope Scorpio
Scorpio sign people will be able to complete all their work with uncanny ease. You may receive money as well as good news related to money. There will be a significant improvement in your health.
Daily horoscope Sagittarius
Sagittarius sign people may get relief from their ongoing tensions. Your things will move slowly but your work will be done successfully. You will be blessed with familial bliss. Your expenditure will rise.
Daily horoscope Capricorn
Capricorn sign people may have to deal with a problem or suffering on account of their offspring. You might plan a trip today. There will be a rise in your prestige. Chances of monetary gains are high.
Daily horoscope Aquarius
Aquarius sign people may have to cope with an increase in mental stress. You will emerge successfully if you do everything with a positive approach. There is a possibility of child-related suffering or problem.
Daily horoscope Pisces
Pisces sign people will spend a good day. There will be a sharp rise in your valour and might. The obstacles in the way of your work will get removed. It will be good to stay away from unnecessary debates and discussions.