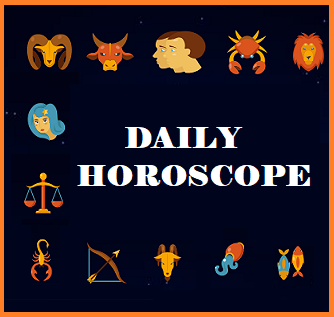 Daily horoscope Aries
Aries sign people might suffer from physical discomfort so they need to be careful. Be careful in your routine conversations. There is a possibility of a rise in your expenditure.
Daily horoscope Taurus
Taurus sign people will be honoured today and their panache will shine. You will benefit on account of your friends. Your familial ethos will be excellent. You will succeed in your tasks at work.
Daily horoscope Gemini
Gemini sign people might have to cope with a difficult day. You need to remain conscious and alert throughout the day. Your health might improve. There will be a rise in unnecessary expenditures.

Daily horoscope Cancer
Cancer sign people will physically as well as mentally feel good. Your old worries may end today. You will earn money and also figure out new sources of earning money.
Daily horoscope Leo
Leo sign people will get the patronage and support of their seniors. You will get success in whatever you do today. Some good news will make you happy.
Daily horoscope Virgo
Virgo sign people may feel more drawn towards religious activities. You will also spend on giving alms. You will get success in government-related activities only after putting in an extra effort.
Daily horoscope Libra
Libra sign people are in for a chaotic day full of ups and downs. Somebody close to you may cheat you so be careful and vigilant. You are advised to be mindful of your speech today.
Daily horoscope Scorpio
Scorpio sign people will get the full support of their life partner. This will prove to be a beneficial day for business people. You will eat exotic dishes.
Daily horoscope Sagittarius
Sagittarius sign people will dominate over their enemies. There will be a rise in your comfort and luxury levels. Your health-related problems will get resolved. This will be a good day for financial benefits.
Daily horoscope Capricorn
Capricorn sign people might remain worried on account of certain issues. Journeys will prove painful. Behave mindfully with your family members else, you might create problems for yourself.
Daily horoscope Aquarius
Aquarius sign people suffer a loss today because of other's faults or activities. Do not trust anybody blindly and do everything after careful consideration. You might benefit because of a foreign connection.
Daily horoscope Pisces
Pisces sign people will get excellent fruit of their efforts. A work-related trip will prove beneficial. There will be possibilities of sudden monetary gains.