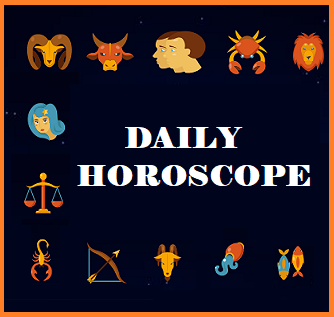 Daily horoscope Aries
Aries sign people will see their tasks getting through especially the pending ones. You will get your sibling's support and that will be beneficial for you. There are chances of monetary gains.
Daily horoscope Taurus
Taurus sign people might have to deal with mental problems. You should not take any decision in a hurry. There are chances of picking up conflicts with your life partner and relatives.
Daily horoscope Gemini
Gemini sign people will spend a good day today. You will be lauded at the workplace. You will get success in your tasks today. Your financial condition shall improve.

Daily horoscope Cancer
Cancer sign people will have to remain alert today. Somebody may try to harm you. Your expenditure will remain on a higher side. Drive any vehicle with utmost care.
Daily horoscope Leo
Leo sign people will remain very alert about their tasks and will work very hard. This will be a favourable day.  You shall remain happy for a wish may get fulfilled.
Daily horoscope Virgo
Virgo sign people will get solutions to their old problems. Things will be favourable at work place. There are chances of a financial gain.
Daily horoscope Libra
Libra sign people may remain inflicted by an unknown fear. There are chances of a monetary loss so do any transaction with utmost care. You might participate in religious activities.
Daily horoscope Scorpio
Scorpio sign people have to cope with a problem-ridden day. You may find several obstacles in your daily work. Your aggression or short temper may spoil your work. You must try to spend the day in a peaceful manner.
Daily horoscope Sagittarius
Sagittarius sign people will get the support of their life partner and also benefit on account of them. Business people will get excellent results today. You will get the opportunities of earning money.
Daily horoscope Capricorn
Capricorn sign people will lead a day of good health. You will be very influential today. Students will get success only after putting in extra effort.
Daily horoscope Aquarius
Aquarius sign people may increase their confusions and conflicts for no reason. There are chances of a journey. There will be possibilities of monetary gains. You may face problems on account of your offspring.
Daily horoscope Pisces
Pisces sign people should do each and every thing very carefully. You are advised not to be careless at all. Your expenditures may rise today. You must not indulge in any debate or discussion as you might pick up conflicts with your family members.