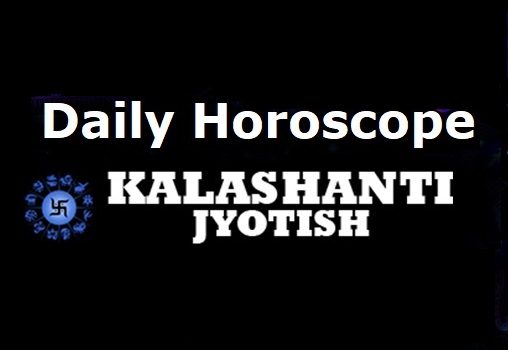 Daily horoscope Aries
Aries sign people should not pay attention to what the others talk about them. There are chances of obstacles surfacing up in your job and business. Your mental peace may be disturbed because of something. 
Daily horoscope Taurus
Taurus sign people may discuss an older problem with their relatives or friends. Your daily routine will be good. All your things will get through smoothly.  
Daily horoscope Gemini
Gemini sign people will make a profit in business, which will strengthen your financial condition. There will be enhanced harmony with your family members. You might suffer from the problem of burning in your chest.  

Daily horoscope Cancer
Cancer sign people will spend a pleasurable day, which will bring an increase in the items of comfort and luxury. You will enjoy exotic dishes today. Your health shall remain good and you will earn money.
Daily horoscope Leo
Leo sign people may suffer from physical discomfort. Your expenditures may rise today. Daily commuting may give some difficulties or pain. Stay away from debates and discussions.
Daily horoscope Virgo
Virgo sign people will get success in each and every field today. You will spend a fun-filled time today with your friends. You will get conjugal pleasures and also save money.
Daily horoscope Libra
Libra sign people will get easy success in everything that will be taken up by them. You will get the support of your colleagues and senior at the workplace. People will obey your orders today.
Daily horoscope Scorpio
Scorpio sign people will entertain a misunderstanding today. You are advised to spend the day with peace and calmness. You may face difficulties in things related to the government.
Daily horoscope Sagittarius
Sagittarius sign people may suffer from indigestion today. You will not be able to concentrate on routine activities. You are advised to be mindful about your speech and to control your temper.
Daily horoscope Capricorn
Capricorn sign people should not take any decision in an emotional state. You might undertake profitable journeys. Your status and prestige shall rise today.
Daily horoscope Aquarius
Aquarius sign people will feel emotionally as well as physically very good.  You will feel warmth and affection towards your family members. You might make a profit on account of a woman.
Daily horoscope Pisces
Pisces sign people will get complete support of their loved ones. This will be a favorable day for students. You might earn additional money today. Take special care of your health.