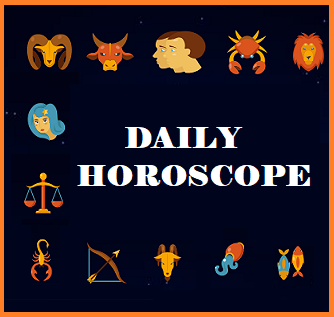 Aries Daily Horoscope
Aries sign people will dominate upon their enemies and will also benefit on account of them. You will spend a pleasant and harmonious day. Your health will remain good.
Taurus Daily Horoscope
Taurus sign people may have to face some difficulties today. You will remain worried about your offspring's health and studies. Be very careful while you travel else you might suffer a loss.  
Gemini Daily Horoscope
Gemini sign people may have to keep up with the reduced levels of comfort and luxury. Your tasks may remain incomplete today. You will gain money but your expenditure will remain on the higher side. Stay calm and do not lose temper.
Cancer Daily Horoscope
Cancer sign people will benefit by work-trips. You will get success in all your tasks today. Your health will remain good and money-related problems will get resolved.
Leo Daily Horoscope
Leo sign people may be bothered by sudden demands of spending money. You might suffer from physical and emotional problems. Stay away from unnecessary debates and discussions.
Virgo Daily Horoscope
Virgo sign people may receive good news today. You may get into a relaxed mood today. You will do well in business tomorrow. All your tasks will get through smoothly.
Libra Daily Horoscope
Libra sign people may benefit if they remain cautious all through the day. Be very careful while driving any vehicle because there are chances of an injury. Your expenditure may go out of control.
Scorpio Daily Horoscope
Scorpio sign people may be able to increase their accumulated wealth. You will receive good news related to your job and business. You will spend a pleasant and a happy day.
Sagittarius Daily Horoscope
Sagittarius sign people will experience a rise in daily pleasures and comforts. At workplace, your seniors will appreciate your work. You will make monetary gains. Your family life will be harmonious.
Capricorn Daily Horoscope
Capricorn sign people may have to cope with some kind of loss in their job or business. You might pick up conflicts with your offspring. However, this will prove to be a good day when it comes to money.
Aquarius Daily Horoscope
Aquarius sign people may have to cope with obstacles at the workplace. You may suffer from indigestion and cough. You must spend the day carefully and not indulge in any fight or debate.
Pisces Daily Horoscope
Pisces sign people may benefit in business and job. Your marital relations shall remain good. If you overcome sluggishness, you will gain money. Your health will remain good.