Horoscope Today, 27th November 2019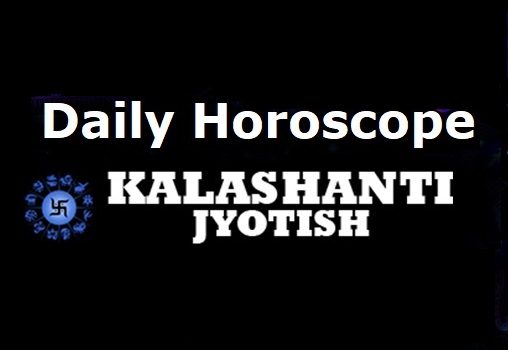 Aries
Aries sign people may find this to be a chaotic day full of challenges and problems. You may remain torn between options and find it difficult to finalize one. Your health will not be stable and there will be patches of weakness.  There will be an inflow of money which can relieve you of your tensions in the immediate run. You may have to travel for work.  There will be love and excitement at work. You must plan your expenses carefully.   
Taurus
Taurus sign people will be in an upbeat and valorous form. There will be enhanced charm between lovers or partners. An important professional assignment may come through in a dashing manner for which you will get all the credit and win the accolades. You may immediately start a new project of equal worth and significance. If you appeared in an interview, you will get selected if the result is declared today.  You will go to bed with a sense of gratification.  
Gemini
Gemini sign people will be on their toes throughout the day as people will keep creating problems even for minor things. There will be an inflow of money which may relieve you of your tensions in the immediate context. You may get the membership of an important professional body or association which may enhance your status. Remain cautious about health precautions as your stars make you vulnerable. A trip is indicated in the stars.
Cancer
Cancer sign people need to take a break and attend to the personal aspects of life. Only meeting professional goals is not adequate for a happy life.  Students will remain busy in their routine learning. You will spend happy time with children or younger people which shall refresh your abilities. The inflow of money will keep you relaxed. No major obstacle will emerge today.  If you have been thinking about investing money to earn more, you will make the right decisions today. 
Leo
Leo sign people will be required to work more than usual as there will be too many demands. The work may become even more difficult because people under this sign may remain sluggish today. Your energy levels will be low as your health stars are not favourable. There will be stress about small things because of which you may remain disturbed.  You may feel inadequate and indecisive about almost everything. A senior person may offer a valuable advice.
Virgo
Virgo sign people will be ready to take on the world and face all the challenges that may come up. They will emerge as efficient and strategic professionals who complete their projects with aplomb.  There will be general air of appreciation and happiness around you. Financially, you will be on top of this world. You may spend a particularly romantic evening with your partner and charm him/her with a gift.
Libra
Libra sign people will plan something serious to augment their professional profile and get success in implementing the plan. You will hear something encouraging about your work profile or the possibilities of a promotion. However, you will remain submerged under the mountain of work. There are chances of buying an expensive item to enhance your style quotient and indulge in some pleasures.  Your siblings will stand by you if any conflict arises.
Scorpio
Scorpio sign people will spend a positive day with all kinds of gains. You will make all round progress on all the fronts. If you have been waiting for something very keenly, it may come through. No major obstacle will crop up today. You may go for shopping and please yourself by buying luxury items or expensive clothes. Students will score high marks if they appear in an exam.  There will be renewed attraction and charm between lovers.  
Sagittarius
Sagittarius sign people may not feel very healthy and upbeat today. You may also feel mentally vulnerable and go through a phase of doubt yourself.  Those who are in a job may try to approach the senior-most authority in order to win their confidence and patronage. If you are planning to invest an amount, consider all the options and details carefully.  An official or personal trip is indicated in the stars.
Capricorn
Capricorn sign people will strengthen their financial profile and consider new options. Your elder sister may appear as a saviour in a complex situation or give you precious advice. You are advised to spend time with your children. It will have a therapeutic effect. It will be a smooth day at work. If any problem, a senior colleague may assume the role of a father figure in your life. Students will get an appreciation of their teachers. 
Aquarius
Aquarius sign people will spend a beautiful day in pleasurable and lovely settings. There are high chances of hearing something good about your personal life. There will be enhanced love and warmth between lovers or a couple. You will wield power authority in your field of profession.  You will make a solid entry in the good books of your seniors.  You may plan a family dinner and strike an emotional chord with your children. 
Pisces
Pisces sign people will spend an auspicious day and invest their financial or psychic resources for the well-being of their family members. The day will neither bring any failure nor a great achievement. A payment may come through suddenly. You will spend a peaceful evening at home with your family members. Take care of your health and eat mindfully. Your health stars are vulnerable.