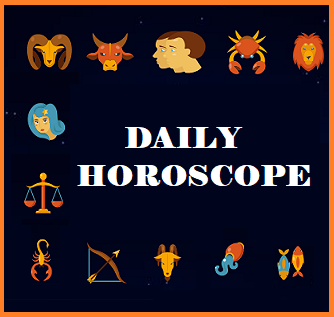 Daily horoscope Aries
Aries sign people will be honored and earn fame today. Your health will be good. There will be a rise in the items of luxury and worldly pleasures. You will get favorable and desirable results in response to your efforts.
Daily horoscope Taurus
Taurus sign people will have to spend money on a journey. You might make a plan to have fun with your friends. Your life partner may be a source of stress. There are chances of expenditure on religious activities and giving alms.
Daily horoscope Gemini
Gemini sign people will spend their time planning new ways to augment their income. You will enjoy the pleasure of a high-end luxury vehicle. There are chances of a sudden monetary gain.

Daily horoscope Cancer
Cancer sign people will remain occupied with thoughts about buying a new house or the issues related to their mother. You might come to the rescue of a friend. You will benefit on account of your father. You will also gain money.
Daily horoscope Leo
Leo sign people will get success in the field of higher education. Your luck will favor you. You will take interest in religious activities and will also spend on them. You might get into nostalgic mood today.
Daily horoscope Virgo
Virgo sign people may have to deal with conflicts that might develop with people around them. Your health might be slightly under rough weather. There are chances of a sudden monetary gain.
Daily horoscope Libra
Libra sign people will have to cope with the difficulties posed by their business partners. Use head while doing your work today and you will certainly get success. You will enjoy the pleasures of married life.
Daily horoscope Scorpio
Scorpio sign people will experience a rise in comfort and luxury. You will be a little upset because things will not go your way. You might feel unwell so you must take care. You will struggle to earn money.
Daily horoscope Sagittarius
Sagittarius sign people will make financial gains. You might receive bad or unpleasant news, which will keep you tensed. This will be a good day for students. Stay away from getting trapped in useless activities.
Daily horoscope Capricorn
Capricorn sign people will face obstacles while completing their assignments. You may get stressed about absolutely useless and unnecessary tensions. If you go for a visit, travel will prove difficult. There are chances of monetary gain.
Daily horoscope Aquarius
Aquarius sign people will get more pleasures and comforts today. New means will develop for you to earn money. Somebody might gain something as a result of your help. Your brother's help will see through your tasks.
Daily horoscope Pisces
Pisces sign people might have to cope with a fall in their reputation so you must do everything with utmost care and after careful consideration. Stay away from debates and discussions. Do everything with a positive attitude and you shall get success.