July 04, 2019-Check daily astrology prediction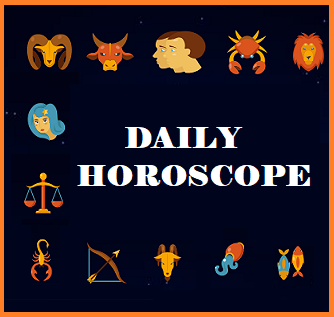 KalaShantiJyotish Horoscope Today, July 04, 2019: Check daily astrology prediction for your zodiac sign Aries, Gemini, Cancer, Libra, Scorpio, and Capricorn … 
Aries
Aries sign people will receive significant favours form their siblings. However, some issues will crop up that will keep you stressed. You will feel financial security. You might lack the energy to do anything today.   
Taurus
Taurus sign people will have to deal with and resolve conflicts among their family members. You must speak mindfully as you are likely to hurt somebody's emotions and face problems as a consequence.
Gemini
Gemini sign people will spend a blissful day with their life partner. There will be a lot of activities and happiness within the family. Though not heightened there will be expenditure on unnecessary things.
Cancer
Cancer sign people will be required to undertake a work-related journey despite wishing against it. You will spend on several items.  Do not engage in any unethical act or thought. You might remain short of temper and irritable throughout the day.
Leo
Leo sign people will be in their valorous mood and will exude confidence which shall leave a lasting impression on others.  There will be a substantial increase in the earnings of business as well as salaried people.
Virgo
Virgo sign people will have to deal with a substantial change in their workplace. There will be possibilities of earning profit in the matters related to property or house. The money flow will increase sharply.
Libra
Libra sign people will receive money which has been stuck for very long. You may contribute to the organization of religious rituals at a large level. You shall spend purchase the items of comfort and luxury. You will grow and make progress in your occupation.
 Scorpio
Scorpio sign people will end up dealing with fluctuating health levels throughout the day. Do not take any decision or do any work in a hurry.  You will suddenly get the news of monetary gains or money itself.
Sagittarius
Sagittarius sign people are in for a day full of achievements. There will be chances of making a significant profit in your trade. Those who are in a job may get promoted to a higher post.
Capricorn
Capricorn sign people will have to deal with stiffness and unpleasantness in their marital life. You may remain tensed about a legal matter being resolved in the courts of law. A visit is on the cards.
Aquarius
Aquarius sign people will earn interest –based money on the investments that they have made in the last. Your health will remain vulnerable.  You may get promoted to a senior post or get additional powers and authority in the workplace.
Pisces
Pisces sign people will have to deal with unpleasantness on account of their mother or wife.  Tour child give you a reason to be happy. You must eat mindfully as you might pick up a stomach infection or some other illness.