July 07, 2019-Check daily astrology prediction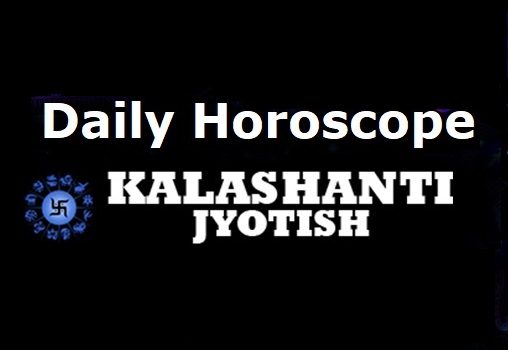 KalaShantiJyotish Horoscope Today, July 07, 2019: Check daily astrology prediction for your zodiac sign Aries, Gemini, Cancer, Libra, Scorpio, and Capricorn … 
Aries
Aries sign people will get the much-desired success in their workplace. Business people will have to put in the extra effort. The conditions continue to be favourable for monetary gains.
Taurus
Taurus sign people will have to cross several obstacles in their work. Stay away from debates and discussions. There will be problems in the workplace. You will also have to deal with health issues.
Gemini
Gemini sign people will find themselves in favourable conditions for gains in their business. Your familial and marital life will be harmonious. All your things will get through as per your wishes.
Cancer
Cancer sign people will spend money on entertainment, fun trips, outings and luxury items. There will be absolutely unnecessary stress. However, you shall receive the good news in your workplace.
Leo
Leo sign people will spend a financially satisfying day. There will be possibilities of sudden monetary gains. The salaried people will get the desired results in their workplace.
Virgo
Virgo sign people will have to put in extra effort if they are into business. The time will be good for your child and students will get the appropriate result of their hard work.
Libra
Libra sign people will find their valour raised to a very high level. Their prestige will rise too. Things will be normal in the workplace. You will make financial gains which will consolidate your financial profile.
Scorpio
Scorpio sign people will earn a very good image in the society. There are strong chances of an increase in luxury and comfort. You will earn money and your seniors will cooperate fully in the workplace.
Sagittarius
Sagittarius sign people will take enhanced interest in religious prayers and rituals. You will remain occupied in your work. There is a possibility of a trip. Your luck shall favour you because of which all your works will get through without any obstacle.
Capricorn
Capricorn sign people will be bothered by unnecessary expenditures. Your health might remain vulnerable because of journeys. There will be chances of a conflict with your business associates or the life partner. Do not bring negative thoughts for anybody in your mind.
Aquarius
Aquarius sign people will receive a piece of good news. You will make substantial gains by using the positive influence of your speech. You will get the much-desired success in the workplace.
Pisces
Pisces sign people will have to guard against lethargy else they might land up in a problem. There will be a sudden rise in your expenditure. Excessive level of fatigue might make you ill. Things will be normal in the workplace.