Today 27th April Horoscope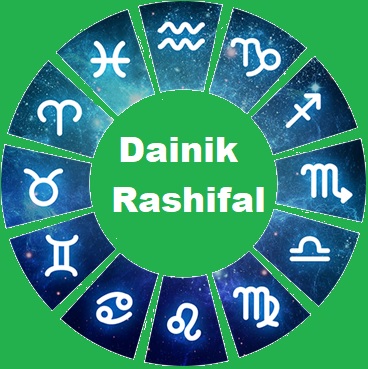 Aries
Aries sign people will remain mentally stressed. A piece of good news about money-related issues will come your way. You may feel lethargic about daily activities. Your life partner will remain supportive. There are chances of an altercation with your brothers.
Taurus
Taurus sign people will feel some stress in their familial and marital life. Your harsh speech may give rise to a serious conflict with somebody so you must exercise restraint on your speech. Some kind of work-related good news is in store for you. Take care of your health as a headache and eye infection may wear you out.
Gemini
Gemini sign people will receive some kind of good news on the occupational front. The married people may have to cope with a hurt on account of their life partner's rash behaviour. You will remain short-tempered throughout the day. Do not do any significant work today. There will be chances of financial gains.
Cancer
Cancer sign people are likely to be hit by a health-related problem. Some of you will get success in business deals. Your expenditure will remain on the higher side. Do not waste your money and time on useless activities. There will be confusions with regard to routine activities.
Leo
Leo sign people might get new means to earn money. You may pick up conflicts with your elder brothers. This will be a difficult day for students. They will get success in their efforts only after putting in the extra effort. You may have some worries about your child. There are indications of a new business deal.
Virgo
Virgo sign people will face some hurdles on the professional front. Some kind of specific tension will keep you stressed on the professional front. However, you will manage to solve your problems on account of your intelligence. Students are likely to waste their time in pointless activities. Take care of your child's health.
Libra
Libra sign people are likely to come under the grip of lethargy. You may become careless about your work. Your relations with your life partner will become harmonious. You may get attracted to immoral activities. Your life partner will make some gains on account of your positive stars.
Scorpio
Scorpio sign people will have to cope with mental and physical problems. You may reflect a bit too much on certain issues. You might pick up a disagreement with a family member. Those who work for the government will make some kind of gains.
Sagittarius
Sagittarius sign people will remain somewhat worried about their routine chores. Maintain harmony in your relations with your family members and life partner. You will do well on the professional front and your co-workers will cooperate too. Take care of your health as an eye-related problem may bother you.
Capricorn
Capricorn sign people will be worried about their life partner's health. Your comforts will increase. You may have to establish a fresh bond with your business associates. You may get hassled because of excessive workload but you will complete all the work on time. Your speech may remain aggressive so you must remain calm and wise throughout the day.
Aquarius
Aquarius sign people will be hassled on account of issues related to their child's well-being. Students will have to put in the extra effort today. You may reflect a bit more than usual on money-related issues. You will strengthen your bond with your life partner. Take care of your health and eat mindfully.
Pisces
Pisces sign people will make some kind of business-related gain. Do not get into any kind of debate today. Take care of your mother's health. You may spend money on domestic activities. Your marital life will remain good. You will be able to communicate your ideas very effectively today.